COMMUNITY OUTREACH: BACK TO SMITH COLLEGE FOR OUR SECOND THERAPY DOG STRESS-RELIEF EVENT OF THE SUMMER
It was a perfect day for our second Therapy Dog Stress-Relief Event on the Smith College campus. Students in the School of Social Work summer session enjoyed taking a break to relax and pet the dogs. Most commented that they were working through the crowd making sure they had a chance to meet each of the dogs in attendance. We had dogs of all breeds and sizes: our tiny Cavalier King Charles Spaniel, VELVET, and a Pug named FRANKIE, two giant Great Danes named LILO and TUCKER, and a large black and white Newfoundland named GUS; our middle-sized breeds included two Golden Retrievers named NILES and CABER, a Yellow Lab named HAAS, a Border Collie named RIP, and an English Setter named LILY. Many of the dogs at the event are veteran Campus Therapy Dogs, having participated in Therapy Dog Stress-Relief Events at other area colleges. We have already been asked back to Smith for next summer!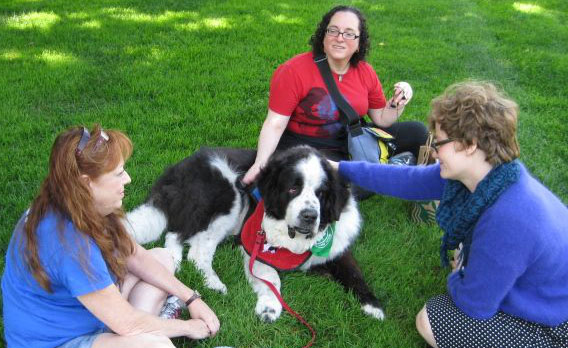 COMMUNITY OUTREACH: BRIGHT SPOT ATTENDS NEWTOWN'S THANK YOU TO THERAPY DOGS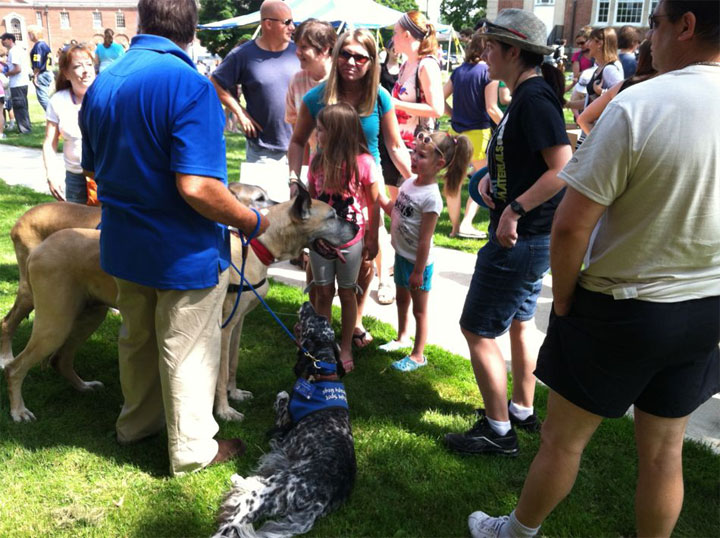 On June 22, 2013, the town of Newtown, CT, held a special Thank You to the Therapy Dogs Event to honor the 70 Therapy Dogs that came to Newtown in the wake of the horrible tragedy on December 14, 2012. The event was held at Fairfield Hills Campus in Newtown. State and local officials were in attendance and worked through the crowd of an estimated 200 people to personally thank the therapy dog handlers and to hug these sweet, gentle dogs themselves. Bright Spot was represented by the three teams that drove to Newtown on the Wednesday after the shootings. Newfoundland Gus, Great Danes Lilo and Tucker, and English Setter Lily received hundreds of hugs and kisses from children and their parents. High School students who had hugged our Bright Spot therapy dogs for hours in the High School lobby back in December, came over to see the dogs that had brought them so much comfort that day. One parent told us that of all the kindnesses that have been bestowed upon the folks of Newtown, the presence of the therapy dogs has been what has made a difference.
COMMUNITY OUTREACH: SMITH COLLEGE SCHOOL OF SOCIAL WORK EXAM BREAK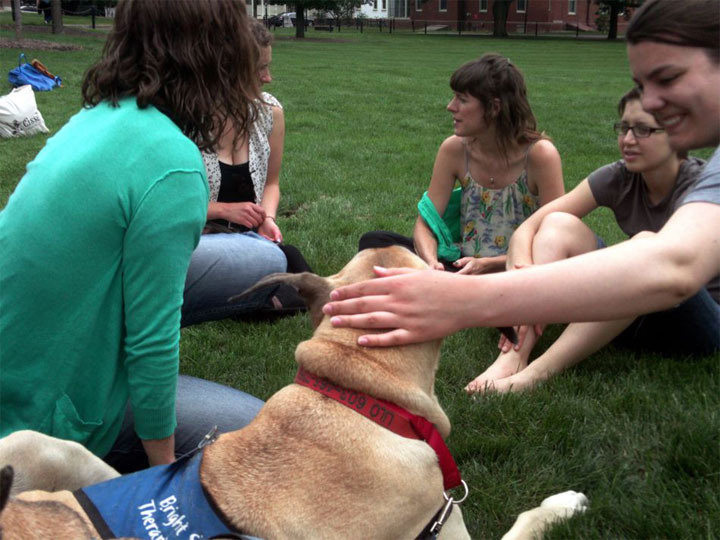 On Thursday, June 27, 2013, four Bright Spot Therapy Dog Teams provided a relaxing break for students attending the Smith College School of Social Work. As part of an end-of-class/start-of-exam de-stressing event, students, faculty, and staff were invited to lunch at the Campus Center and lounge on the lawn with the dogs. Unwinding students shared how much they missed their pets as they held, petted and stroked the visiting dogs. Cell phones were in constant use as the dogs posed for pictures or as text messages to 'Get down here now!" were sent. Many asked about ways to incorporate pet therapy into careers and activities they are preparing for now. Students were surprised to learn that the Bright Spot Therapy Dogs are personal pets whose owners have trained and had them certified for their work. The Therapy Dogs at the event regularly visit in hospitals, healthcare facilities and hospice as well as participate in school Reading Buddies Programs. Lexi Klupchak, the student organizer of the event, was pleased that so many of her peers and faculty spent time visiting the dogs on the lawn. Some had to be encouraged to get lunch or reminded of the afternoon's class and exam schedule. The Bright Spot Therapy Dogs Caber & Niles, Lilo & Tucker, Frankie, and Velvet, along with their volunteer handlers Kevin Russell, Ern Damon, Roy Coulter, and Patti Tibbetts, found this to be an especially uplifting and rewarding event.
COMMUNITY OUTREACH: UMASS STUDENTS MEET
BRIGHT SPOT THERAPY DOGS.
EXAM DE-STRESSING ON CAMPUS

Classes ended at UMass, Amherst Campus, on May 1st. Students were ready for a break before heading into exam week. They received the best distraction of all... a chance to spend time with the 14 Bright Spot Therapy Dogs that attended The Big Chill, an event designed to provide some fun and distraction from the rigors and stress of studying.

The lawn in front of Goodell Hall was transformed into a Fun Fest for students, with food booths, music, bouncy houses, and lots more. All that was set up paled in comparison to our wonderful Bright Spot Therapy Dogs. The dogs were surrounded throughout the 4-hour period by students either taking a study break, coming off an exam, or heading in to one. Thousands of students thronged the site. Students texted one another to get over to Goodell lawn and meet the terrific Therapy Dogs! One student said that she hadn't seen a dog in so long that she felt like crying. Many said the hardest thing about being away at college is missing their beloved dogs. Several students inquired about getting involved with Therapy Dog visiting and the type of training a dog needs to become a Therapy Dog. Staff came out on break or lunch period to pet the dogs. One person looked out her office window, saw our Bright Spot Frankie, an adorable Pug, and came running out to meet her and ask about becoming a member of Bright Spot.

Bright Spot was well-represented by: 3 Golden Retrievers - Brinkley, Niles & Caber, a Cavalier King Charles Spaniel named Velvet, a Yellow Lab named Haas, 2 Great Danes - Lilo & Tucker, Frankie - the Pug, Bud - the Border Collie, English Setter Lily, a tiny Chihuahua named Winston, a German Shepherd named Gus, an adorable Mixed-Breed named Cassey, and a gentle, sweet Rhodesian Ridgeback named Athena. All 14 dogs showed the well-trained manners and friendly outgoing temperaments that are the hallmarks of a good Therapy Dog. Thank you to all their handlers for taking them to campus and sharing them with the students. This is the first of our Therapy Dog Exam-DeStressing events. We are most definitely looking forward to doing more.

---

COMMUNITY OUTREACH:
A BUSY MONTH FOR BRIGHT SPOT

Cynthia Hinckley and Ern Damon speak with students at Stonehill College. The students enjoyed meeting Bright Spots Tucker and Violet

This past month, we have spoken with groups of all ages. Volunteer Ern Damon with his teammate Tucker traveled with Bright Spot director Cynthia Hinckley and her teammate Violet to Easton, MA, to speak with students at Stonehill College who are interested in community service. They were eager to learn about the meaningful work our Bright Spot Therapy Dog teams do in healthcare and educational facilities. Many of the students mentioned a desire to use Animal Assisted Therapy in their chosen careers fields.

Patti Tibbetts and Ned Polan speak with seniors

Next, Bright Spot traveled to Worthington, MA, where Bright Spot Board member Patti Tibbetts with her teammate Velvet and volunteer Ned Polan and his teammate Brinkley, accompanied Bright Spot director Cynthia Hinckley to speak to the Council on Aging at their monthly luncheon. Patti shared her experiences visiting with Velvet at Cooley Dickinson Hospital, Ned spoke about his visits to two mental health facilities in Westfield, and Cynthia talked about Violet's role as a Reading Buddy in our Bright Spot Reading Buddies Program.

The Bright Spot group left the COA and headed to the Russell H. Conwell School to speak with students in Kindergarten through 6th grades. Brinkley stole the show with his amazing tricks. Brinkley and Ned take these tricks very seriously. Ned travels with a duffle bag containing Brinkley's props: a set of oversized LEGOS for the Hide-the-Treat game, a ball and pins for his bowling trick, and a set of cards, each containing a command, which Brinkley performs when Ned holds up the card. Brinkley performs each trick with great precision and clearly enjoys the roaring applause he receives.

Although all three of the talks were very different, the message was the same: Therapy Dogs help make people feel better.

Brinkley enjoys praise from the students after finishing his now famous TRICKS routine.

BRIGHT SPOT READING BUDDIES TRAINING AVAILABLE FOR INTERESTED VOLUNTEERS

Are you interested in volunteering for one of our Reading Buddies Programs in elementary schools and public libraries? Special training is required for participation in a Bright Spot Reading Buddies Program. If interested in learning more: requirements, training, evaluation and special certification, email program coordinator Ern Damon at damonern@gmail.com.

Bright Spot Reading Buddy Zack, handled by his teammate Susan Miller, enjoys listening to a student at Westhampton Elementary School read her book as part of our Bright Spot Reading Buddies Program.
BRIGHT SPOT READING BUDDIES TRAINING AVAILABLE FOR INTERESTED VOLUNTEERS
Are you interested in volunteering for one of our Reading Buddies Programs in elementary schools and public libraries? Special training is required for participation in a Bright Spot Reading Buddies Program. If interested in learning more: requirements, training, evaluation and special certification, email program co-director Ern Damon at damonern@gmail.com. (in photo: Ern Damon and Reading Buddy Lilo listen as a pre-schooler at the Westhampton Elementary School reads his book)
---
COMMUNITY OUTREACH: BRIGHT SPOT ATTENDS VINS DOG SHOW
Bright Spot Board members Sheryl Malone, Kevin Russell, and Patti Tibbetts, manned our booth at the VINS DOG SHOW and spoke with folks interested in therapy dog work. Patti submitted the following write-up detailing the event:
The Northampton High School Gym was the place to be on Saturday, March 2, 2013, for the annual Volunteers in Northampton Schools Program (VINS)...The Eighth Annual Not Your Typical Dog Show. Dogs of all ages, colors, breeds, and sizes arrived with their owners to take part in a variety of fun/competitive events. Two of the most popular categories of competition were the Pooch Who Can Smooch and the Best Dressed events. Dogs lavished kisses and licks on their owners' faces, and the parade of canines vying for the best outfits sported cowboy hats, wings, halos, ballerina outfits, football shorts and shirts, leather jackets, and sun glasses. Brian Rust, the Master of Ceremonies, ran a tight schedule of these and a myriad of other events, including the Fastest Tail Wagger and Best Fetcher. The two judges had their work cut out for themselves with tough evaluations of Best in Show, Most Beautiful Eyes, and Earresistible Ears, with 16 categories in all being judged.
Along with the ongoing events there were a number of vendors offering such services as canine training, dog treats and beds, and veterinary services. A fun time was had by all, both human and canine, at this event. If you did not make it to this year's event, be sure to put it on your calendar for next year at this same time. It is a great way to spend a Saturday afternoon with your pet.
Bright Spot Board member and facilities director Sheryl Malone chats with a woman
checking out our display at the VINS Dog Show.